br>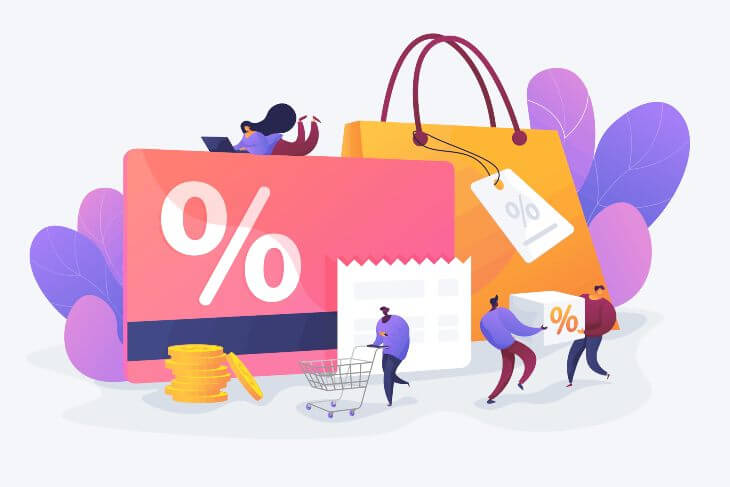 Everywhere you go, billboards leap out with happy customers exchanging their loyalty card points for goods and services, in 2022 the Loyalty card landscape is as competitive as ever, and this is great news for us as consumers with offers becoming better and better and more and more discount opportunities to be had.
Being a Loyalty card user used to mean a bulging wallet or purse and having to sift through your cards to locate the right one, these days though, all the major players now have apps that can be easily scanned, and using your points has never been more accessible.
In this article we seek to examine the ever growing loyalty card empire, its biggest players and the best advantages of the various options.
Tesco Clubcard
Beginning in 1995, the Tesco Clubcard is an elder statesman of the British loyalty card landscape. Now boasting in excess of 17 million users, the mathematics of this card are very simple, spend a pound, earn a penny or 'point' in the form of a voucher, it doesn't sound like much but then  'every little helps'.
The Tesco Clubcard has evolved into something of a British standard and these days there are many ways to add to your Clubcard points. This includes:
Tesco Surveys
After concluding a shop at Tesco, simply visit tescoviews.com and enter the 4-digit code on your receipt. Completing a questionnaire earns a whopping 25 points and a chance to win a £1000 gift card.
Tesco Mobile
Earn 1 point for every pound you spend on your contract, as an extra bonus this includes SIM-only contracts.
Tesco Bank Credit Card
Earn 1 point for every £4 spent at Tesco or 1 point for every £8 spent otherwise.
Fuel Stations
Earn more points buying fuel at Esso and at Tesco fuel stations.
Tesco Reward Partners
Another advantage of using Tesco's loyalty scheme is their deals with 'Reward Partners'. This includes the option to make 'boosted' charitable donations for 3 x the voucher amount, or visit UK tourist attractions for alot less on the gate price.
The deal works by exchanging £5 in points for £15 off the gate price, and the current deals include:
Sea Life centres
Alton Towers
Blackpool Pleasure Beach
Chessington
Legoland
Thorpe Park
Edinburgh Dungeons
Eden Project
Blackpool Zoo
Longleat Safari Park
F & F School Uniforms
From just £2.50 using loyalty card points you can get 2 school items! Whether this be polo shirts, sweatshirts, skirts or trousers all are in the scheme and well worth considering.
National Railcards
You can get an annual railcard for 1/3 of its actual cost by using Clubcard points, for further details please visit the Railcard website.
Megabus
Your points are also worth triple with the coaching giant Megabus, who already provide extremely cheap coach travel to many mainstream UK destinations, and some parts of Europe.
Tesco also provides many ways for you to use your points from their mobile app, to key fobs, and their contactless card, Tesco is trying to make things as convenient as possible and to remain the biggest shark in these ever more infested waters.
One downside we must mention of the Tesco loyalty card scheme is that the vouchers expire after two years, although Money Saving Expert offers some solutions to potentially claim back any unspent vouchers.
Boots Advantage Card
Boots' loyalty card offering, The Advantage Card, is also well established in the UK retail market.
Advantage card users get four points for every £1 spent either in-store, online or through the app and as of the start of 2022 cardholders are also privy to a new discount scheme called 'Price Advantage' allowing up to 50% off selected purchases.
Anyone keen on signing up for the many benefits of Boots advantage can do so by signing up for free through the Boots app, or in-store.
More disappointing news is the recent announcement that from June 2022 all advantage card points would be void from accounts that haven't been used for the last year,  a reduction from their current 2 year usage policy. No need to panic though, it's simply a matter of scanning your card before June to reactivate the 1-year policy.
Besides Price Advantage, there are competitions where you can win a £250 gift card, personalised offers through the Boots app, a parenting club for parents or those expecting, over 60s rewards, student offers providing 10% reductions, and Beauty X providing beauty hacks and exclusive offers to enhance and save on your beauty regime.
You will think that's plenty, but that's not all. You also get a gift on your birthday and a free health and beauty magazine.
All in all the Boots advantage card is well worth having and a must for frequent shoppers, please see here for current details and offers: https://www.boots.com/shopping/advantage-card
The Nectar Card
Most consumers hear 'Nectar Card' and instantly think about Sainsbury's, but the Nectar Card actually has over 300 big brand partners and your points can be spent at any of these locations, no matter where you earned them. There are always deals to be had!
Watch out, especially for Sainsbury's' Double Up' events where points can be redeemed at double their value.
Among the other key Necta' partners are Argos, eBay, British Airways and Sky, and collecting points cannot be simpler. With personalised offers, partner offers from Nectar affiliates, and online shopping through hundreds of big brand stores, the Nectar Card is much more than just another Loyalty card.
Co-op Membership Card
Rewarding 2p for every £1 spent, the Co-op card is more generous than other cards, and as a member you are also entitled to exclusive offers and personalised savings based on your previous purchases.
Aside from your weekly food shop, Co-op has many other strings to its bow and Membership Card discounts can be found on funeral care, insurance and legal services, all under the Co-op umbrella.
Co-op also offers a very generous student discount scheme with up to 10% off your shop, and a 'cash back' scheme for those who use Co-op banking. They also match any rewards you accrue with a charitable donation of the same amount.
Keeping up with the other supermarket chains, Co-op also has a convenient app or the standard card as ways to pay.
One small downside is the £1 joining fee but frequent users will more than makeup for this, and with double the points on offer it is among the best Loyalty card offerings out there.
My Morrisons Card
The last of the Loyalty cards in this article is the My Morrisons Card, formerly Morrisons More, this card has also expanded its array of treats and offerings.
Its most enticing promotions include the Christmas Saver Scheme and the My Morrisons Clubs, a list of these and their offers can be found on their Help Page.
Morrisons also has an ever-convenient app that can be installed on your phone with a simple download, and a digital shopping website so you don't even need to leave the comfort of home to start saving money.
Best Loyalty Card Apps 2022
In this digital age, many businesses are finding ever more inventive ways to make customers' lives more efficient. Not so long ago the idea of storing all your loyalty cards in one place was a nice dream but did not replace the bulging wallet or list of apps on your phone, today this idea is a bountiful reality of competition, all vying for your business.
Here is a brief rundown of the chief players and what they can do for you.
Stocard
iOS & Android
Stocard is one of the older apps on the market. Its method is a tried and tested simple one of storing all your apps on one simple to operate platform.
It has certainly not been left behind though and is still changing its operating practices to keep with current trends, now offering discounts on gift cards and contactless ways to pay, it is still a big hitter in this saturated market.
Rym Card
iOS & Android
Similar to Stocard, Rym Card is an app that allows you to create digital copies of your loyalty cards on your phone.
Its "share card" feature allows you to share your cards with your friends (and vice versa), meaning you can earn points based on your friends' spending.
Rewards Cards
iOS & Android
The name says it all, really. With the goal of "transition from wallet space to screen space", the Reward Cards app allows you to scan your loyalty cards' barcodes on your phone which can then be scanned at the till.
The Rewards Card app also allows you to earn reward Coins through shopping pm certain sites, watching videos or downloading apps. These Reward Coins can then be redeemed for Amazon vouchers or cash through Paypal.
Fidme
iOS & Android
Fidme is another older player on the market but like Stocard has adapted to the demands of its loyal customer base and has grown new branches.
Originating in France but now encompassing a worldwide range of stores and stamp cards, Fidme is quick, easy to use and linked to both apple and android devices. Having started in France it is also highly conscious of language barriers and at the time of writing boasts translation in 14 different languages.
Apple Wallet
iOS Only
The Apple Wallet is extremely popular among IOS users due to its convenience and its ability to hold highly diverse information, from travel cards to event tickets, loyalty cards to digital keys, the apple app allows you to store them all in one, security-conscious place!
Available on many Apple devices including phones of course and Apple watches.
Google Pay
iOS & Android
Google Pay is the Apple Wallet equivalent *though can be used on iOS devices as well as its native Android). As with Apple Wallet, Google Pay allows you to store digital versions of loyalty cards, rewards, memberships and gift cards, as well as special offers for thousands of merchants that are on the Google Pay platform.
---
Whatever your Loyalty preferences, there are so many to choose from these days, our advice here at CarCashPoint is to take your time, and think about the options that best suit your pocket and lifestyle, there are a host of offers out there, and things to enjoy that you maybe wouldn't normally treat yourself to.
With the saturation and the changing face of the British economy, many consumers have become immune to the enticements of Loyalty cards and Apps, but many of these have upped their game and are well worth a second look in 2022.
If this article has whet your appetite to the possibilities of today's many cards and loyalty schemes, there are many, many more to look at, a simple online search will reveal an ever-changing world of offers, schemes, clubs and promotions at your fingertips, there are a host of savings to be had, charities to contribute to and activities to experience just by shopping in a slightly different way.
Good luck and happy shopping!