br>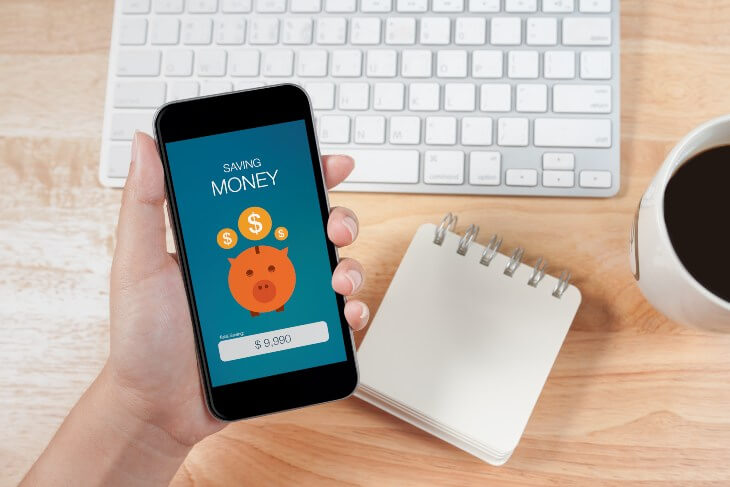 If you struggle to budget and organise your finances, it can be a daunting task trying to find methods to save money. While it may seem challenging to put money aside to build a savings pot, there are various ways that you can do this successfully. 
One effective approach is to use the right mobile apps. 
That's right - instead of being used to browse social media feeds, play games, or splash the cash, you can use apps to turn your smartphone into a money-saving device. That's the case at least if you select the right apps for the job. 
That's where this guide can offer a helping hand. If you're searching for apps to save money, we have compiled a list of the best options to help you build a budget, cut down on expenses, purchase bargains, and more. 
Apps for Managing Your General Finances
When it comes to managing your general finances, various apps currently reside within the Google Play Store and Apple App Store. Below are two recommendations that can be used by UK residents. 
You Need a Budget
Known more commonly by its 'YNAB' abbreviation, You Need a Budget does exactly what it says on the tin. This app follows a philosophy that takes into account four rules: 
Give every pound a job

Save up for a rainy day

Take any financial challenges in your stride

Live entirely on your previous month's income
The overall goal for YNAB is to improve your money management, produce stress-free finances, and ultimately save you a significant sum of money. YNAB says that, on average, newcomers to the app save over $6,000 in their first year. 
Despite the app being full to the brim with information and features, the actual interface is easy-to-use for both expert budgeters and beginners to this world. Features include detailed reports, goal tracking, learning resources, and dedicated personal support. 
After a free trial, you can use YNAB for $11.99 (£8.75~) per month or $84 (£61~) per year. 
Wally
When you are searching for a more simplified tool for managing your finances, one of the best picks is Wally. You can centralise all of your accounts in one place, manage your incomings and outgoings, set goals, and budget more effectively. 
Even though it isn't as feature-packed as the aforementioned YNAB, Wally still packs in plenty of useful tools under the hood. This includes a financial calendar for a quick overview of past and upcoming transactions, a place to store your important financial documents, and the ability to schedule useful reminders for bills and other payments.
Another advantage is that you can download Wally for free. A premium version, Wally Gold, is also available from £1.50 per month. This incorporates additional perks such as joint accounts, a currency converter, and more specific categories.  
Apps For Shopping 
Even if you are trying to avoid buying non-essentials as much as possible when budgeting, there will be times when you need to make various purchases, Christmas or a birthday might be coming up, and you need to get presents. Your shoes may have worn down, and you need to replace them. The list goes on and on. 
Well, before you click the 'Confirm order' button, make sure you download at least one of these apps to potentially save significant cash. 
Honey
If you haven't yet seen one of their annoying adverts pop up on the likes of YouTube, you're one of the lucky ones. Yet that doesn't mean Honey isn't effective at what it does. 
For the uninitiated, Honey is a free extension that you add to your mobile or web browser. Once installed, this app automatically checks for discount codes on any applicable retailers. With over 30,000 websites covered, they will likely be able to locate a discount code that makes you save at least a small amount of money.
Honey claims that users benefit from yearly average savings of £102. Plus, with their reward scheme, Honey Gold, there is also the opportunity to trade in collected points for gift cards at major retailers like Amazon, Argos, and ASOS. 
TopCashback 
The 'cashback' process presents the opportunity for you to be paid when making eligible purchases. Retailers that are covered by cashback include everything from Curry's PC World to Tesco, and the amount of money you receive can range from a few pennies to £100+ on certain occasions. 
The best cashback platform right now is generally seen as TopCashback. This app can be used for free -make sure to downgrade from their 'Plus' membership after a one-month trial - and allows you to receive free money by simply using TopCashback when purchasing from an online retailer. For example, you could be splashing out £500 on a new laptop from Curry's. If there's 10% cashback available, you can essentially knock £50 off the price tag. 
In the cashback realm, the big rival to TopCashback is Quidco. It is advised to download both as they always feature their own exclusive deals across retailers. 
SnipSnap
Storing physical coupons and carrying them around can be a hassle. It is easy to forget them when you go out shopping. One solution to this problem is to use SnipSnap. With this app on your phone, you can snap pictures of any discount codes you want to use, and these will be transformed into digital ones ready for use. 
Any physical coupon is up for grabs, whether found on a leaflet or within the Sunday paper. Along with being able to stock up with your own discount codes, the "Discover" tool of the app provides the chance to see which coupons friends and family have snapped, and there's also a large database available to browse. 
Apps For Local Deals
It's always nice to shop at local retailers. Sadly, the above apps like Honey and TopCashback usually only cater to those spending cash at major chains. The good news is there are apps available for grabbing some local deals. 
Groupon 
How do you fancy saving up to 70% on a hotel or meal at a local restaurant? This is what Groupon proposes. As the most popular app of its kind, you will find a wide range of services and things to do in your local area. Plus, if you are going away somewhere for a weekend, you can search by location to find any potential deals for your destination. 
Aside from being a great way to save money and support local businesses, Groupon also offers a great opportunity to try new places and step out of your comfort zone. Even if you don't like the experience, at least you haven't spent too much cash.
Wowcher 
One of the biggest alternatives to Groupon is Wowcher. This platform is set up much in the same way as Groupon, although there's a larger emphasis on discounted products rather than deals at local restaurants or stores. If you live in a major city like London or Manchester, there are plenty of local deals to keep an eye on.
Apps for Travel 
You are saving money, yes, but that does not mean you have to sacrifice luxuries such as going on holiday. Whether you are going on a two-week vacation or simply making the morning commute to work, there are apps you can use to make the journey a more affordable one.
JustPark
Do you live in a busy area? Do you struggle to find a parking space close to work? Is the parking space you're using expensive? If any - or all - of these apply to you, JustPark could be the solution for you. 
By using this easy-to-use app, you can easily find a parking space nearby and reserve it. With millions of spaces found across the UK, and the ability to pay via the app, the stress of finding a parking spot is quickly eliminated. It's also ideal if you are going on a break to somewhere like London where it is notoriously difficult to find convenient parking at a reasonable price. 
Skyscanner 
To save money on your holiday, one of your main focuses should be on the price of flights. This is one of the biggest expenses of any trip, so that any cost reduction can make a big difference. 
Skyscanner is a popular app where you can search for the cheapest flights across all major airlines. If you are flexible with your dates, this app can be particularly useful, as you can perform monthly searches to find the absolute best price during that period. It's not uncommon to find various return flights across Europe for less than £20. 
Trivago 
Transport is sorted - now you have to book affordable accommodation. Instead of installing a specific hotel booking app like Booking or Hotels.com, it makes sense to go with a platform like Trivago. This way, you can compare the prices of specific hotels and accommodations across multiple booking sites. 
With Trivago by your side, you can save considerable money when selecting your next hotel.