br>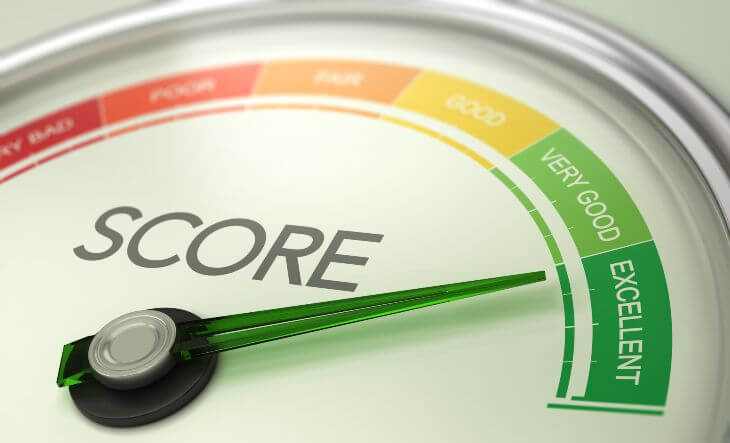 Credit ratings are a funny thing. We don't ask for them, but our lives can be judged by them. Everything we do financially either helps or hinders our credit scores and the things we do or don't do can have a big impact - sometimes there and then, but often years down the line. Building your credit the right way can really help.
Having a low or non-existent credit rating puts you in a vicious circle - you can't get credit to build your score, but you can't build your score without credit. Though there are ways and means to change that, as with most things that are worth doing, it can take time to build credit, as well as a bit of effort and a lot of patience. 
Co-signatory credit cards
So, assuming you have no credit score right now, how do you get a foot on the credit ladder? The first step is to get a credit card. The trouble here is if you apply with a low or bad credit rating, you could get less favourable rates making it more expensive for you, or you could be turned down outright. So that feels like a dead-end, right? Wrong.
There are two ways to approach credit card applications. One option is to turn to a friend, parent, or significant other who already has good credit. The credit card can be taken out in their name, and they'll be the 'co-signatory'. But adding your name to the card as an authorised joint user, it's a great way to start building your credit rating.
While this sounds like an ideal way to get going, there are a couple of drawbacks. If you can't make repayments going forward, the co-signer's credit rating will take a hit as well as your own getting worse. If you stop payments altogether, the co-signer is legally responsible for paying back anything outstanding. So while it can work well, there needs to be a lot of trust and goodwill involved on both sides.
Credit-builder cards
The second option is to apply for a special credit-building card specially designed for people with bad or low credit. While these work in the same way as a standard credit card, there are some differences between them.
With a normal or good credit rating behind you, most credit cards have lower rates of interest, often ranging anywhere from between 9% - 20%. They can also tempt you with a long-term 0% interest rate offer. But when you have a bad or poor credit rating, rates and offers like this won't be available.
Firstly, a credit building card will have a much higher rate of interest - this could be anywhere from 25% to 40% which means higher monthly repayments for anything you spend. The other difference is the credit limit attached to these cards will be much lower. Depending on the card issuer, it could range from £200 up to around £1,500.
Both of these precautions are included because the issuing bank is covering its own back. They're taking an unknown risk when someone with a bad credit history applies for a card. With these safety measures, they have an insurance policy so they don't lose too much if someone can't make their repayments. But they're there to protect you as well - helping you to monitor your spending and build your credit responsibly.
Either of these credit card options is the best first step to building your credit. In doing so, it will help you when it comes to everyday things like getting a mobile phone or opening an online shopping account. But here are three more top tips on using a credit card to help you build your credit the right way:
1). Make payments on time
Paying your bills on time--or before the due date-- is a great way to build your credit. Prompt payments show lenders of all types that you're a responsible borrower. Setting up a direct debit can also help you make regular payments so you're always on time.
2). Pay as much as you can
If you're keeping up regular repayments, this is a great start. But if you can, always aim to pay more than the minimum amount each month - it shows lenders you're committed to making sure you pay off your debt quicker.
3). Keep your balance low
The level of debt on your card (i.e. your credit card balance compared with your credit card limit)  is one of the biggest factors affecting your credit score. Keeping a low balance on your card will boost your credit score.
Build your credit with Car Cash Point
While credit cards are just one way to help you build credit, another option is to take out a loan. We'd only ever suggest taking out a loan when you need one, but sometimes the unexpected happens leaving you in need of a lump sum quickly. In that situation, going through the application process can be time-consuming and finding a lender who accepts someone with a low credit score can be difficult.
That's where Car Cash Point can help you. Offering you a fast, safe, and secured loan that doesn't rely on having good credit to get one, while helping you to build your credit score at the same time. All you need is your car--which should be owned by you and free from any finance--and your V5 logbook document.
We pride ourselves on giving every customer, like you, a flexible loan that gives you a choice of weekly, fortnightly, 4-weekly or monthly repayments to suit you. Car Cash Point logbook loans are fully transparent - there are absolutely no hidden fees or charges. We also have no credit checks and one of the fairest and lowest interest rates around (nearly half the rate of some other logbook loan lenders).
A Car Cash Point loan offers you instant finance, despite a low or bad credit score, that will help you build your credit score the right way. Call our award-winning customer service team today on 0333 414 9656 to find out more or apply online.