br>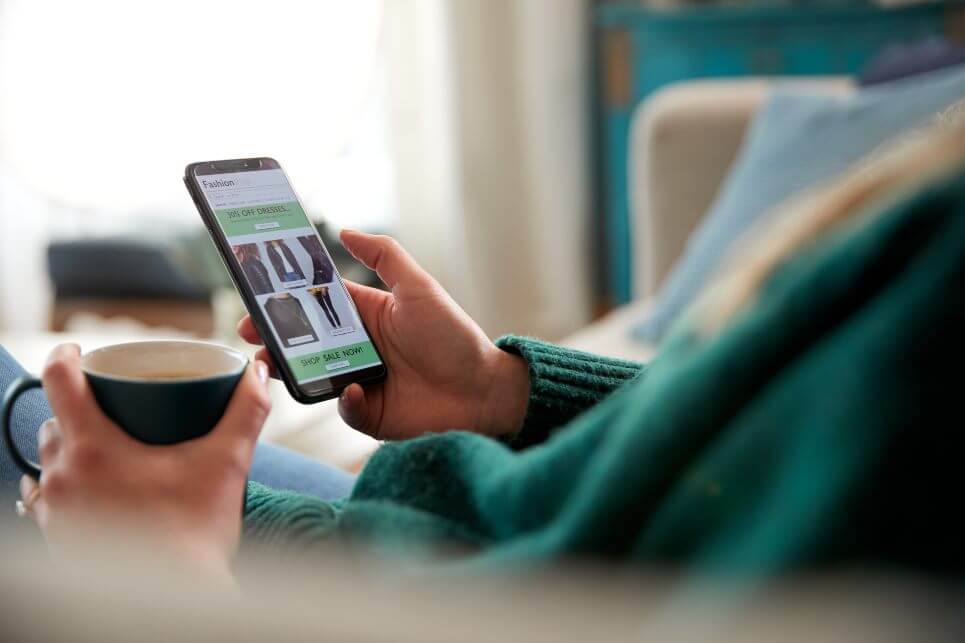 Online shopping has grown exponentially over the past two decades - and there are numerous reasons why. Compared to in-person shopping, it's more convenient, there's a greater range of brands and products available, and there are generally better savings to enjoy.
The latter point is a particularly enticing aspect of shopping online. As they typically operate with lower costs than their physical counterparts, online retailers are able to pass these savings onto their customers by offering products and services at lower prices.
Yet, there are extra ways to bag a bargain through your desktop or smartphone. With the following ten tips and tricks, here's how to save money when shopping online:
1. Utilise voucher codes
Voucher codes are one of the easiest - and most effective - ways to save money when shopping online. These can range from free delivery to 50% off your purchase, so it's always worth checking if your retailer of choice has any voucher codes available.
To do this, and before completing checkout, you can always do a quick Google search to see if any voucher codes are eligible for the goods you intend to buy. However, a more astute method is to install a voucher code plugin on your browser of choice. For instance, Honey is a free Google Chrome plugin that does the searching for you, automatically listing the best voucher codes across 30,000+ online stores.
2. Be calculated when stacking codes
Relating to the previous point, another tip is to be extra strategic with your discount codes. In certain situations, you will find a number of codes for a specific retailer. While most will restrict you to only one code per transaction, others - such as Amazon and Gap - are less strict in that regard.
When you stack codes, be careful when doing so to maximise your savings. As an example, you could have two codes: 20% off and £20 off. Before using the latter, you will want to first take the 20% off from the product's full price. By using the codes in this order on a £100 product, you will reduce the price to £60 (20% off £100 = £80 - £20 = £60) rather than £64 (£100 - £20 = £80. 20% off £80 = £64).
3. Use live chat to haggle for a better deal
You might think that when visiting an online retailer there are no opportunities to barter with an employee to land a better deal. However, this isn't the case - particularly with the rise of live chat functionality on virtual stores.
When you visit a website, these chat boxes will typically be in the bottom-right corner of your screen. Rather than seeing them as a minor annoyance, you can get a conversation going - even if it's just an auto bot at the other end - to strike a better deal for your intended purchase.
This is especially useful when it comes to haggling for a better price on services. If you want to reduce the amount of money you're spending on the likes of your internet and smartphone plan, discuss it via live chat. There's always wiggle room with service-based retailers, as they'd rather keep you around than lose your continued business to a rival.
4. Compare prices
You've visited an online retailer that ranks as one of your favourites and most trusted. You have found the product you intend to purchase. You've even saved a little extra on the price with an eligible discount code. All you need to do is click "Buy now", right?
Well, before you splash the cash, it's always wise to compare prices across different retailers for the product. The good news is you don't have to complete this action manually. By utilising a comparison platform like PriceRunner, you simply enter the product you want, and they will list all retailers offering said product - along with whoever is selling it at the lowest price.
This type of research can also pay off when retailers provide a price-match service. Even though major retailers make a concerted effort not to be beaten on price when they offer such a service, they can sometimes let certain products slip through the net. In this case, they will match or beat the price - ideal if they're also a more reputable brand.
5. Keep an eye out for cashback
Who wouldn't like to be paid when they spend at a retailer? Well, with the help of cashback websites such as Quidco and TopCashback, it's realistic to make £100s each year - and the effort required to do so is minimal. All that's needed is to click through to an eligible retailer via the cashback site's tracked link. Do that, make a purchase, and you'll earn a certain percentage back.
The amount you receive can vary significantly. It can be pennies for some groceries, a few pounds for mid-range electrical products, or venture into three figures for certain mobile contracts. Either way, if you receive cashback for the majority of your online shopping experiences, the money gained can quickly add up to a significant overall sum.
For added convenience, the aforementioned sites also offer free browser extensions to alert you when an eligible cashback offer is available when you visit specific online retailers.
6. Buy discounted gift cards
A savvy trick when buying online is to utilise discounted gift cards. Via platforms like Cardyard, you can find gift cards at a reduced price for major retailers like Amazon, Argos, PlayStation, and Adidas.
Say you have put together a little clothing haul at H&M that totals £100. Before you make the purchase directly through your bank or PayPal account, you find a discounted £100 H&M gift card available for £90. Just like that, you can effectively make a 10% saving on your purchase.
7. Sign up for newsletters
When thinking of how to save money when shopping online, it makes sense to sign up for a retailers' newsletter. In exchange for providing them with your email address, they will typically supply you with an exclusive discount code or offer. This could be 30% off your first purchase, for instance, or a free gift when you buy a certain product.
Aside from this initial offer, newsletters can be useful for staying in the know about the latest discount codes, special promotional events, and sales. Plus, if you don't want your current email account being clogged up, you can simply create a separate email address that's dedicated to promotional materials from retailers.
8. Don't checkout
This can seem like a strange tactic, but you could bag a discount by abandoning your shopping basket. As long as you're signed into a site so they can recognise your actions, simply add any items you want to your basket, and then... leave.
Retailers don't succeed unless customers complete their purchases. This is why they track those that abandon their cart. They know they've almost sealed the deal with these customers, and they also know a simple pot of sweetener could be enough to get the sale over the line. As a result, they could send a follow-up email - which could be a few hours or days later - with a special discount or offer attached.
Of course, this isn't a viable tactic if you're shopping for an in-demand product, and some online stores don't engage in this type of marketing strategy. Yet if you're in no rush to buy, and there's no risk the product will suddenly end up out of stock, abandoning your cart is worth a try.
9. Avoid fraudulent, dodgy websites
In the search for a bargain, you want to try and find a product for the lowest possible price. Yet, in that search, it is easy to be led astray down a path to fraudulent websites that sell fake, shoddy goods.
While you may believe it is easy to spot dodgy sites, the fraudsters are getting increasingly adept at disguising their deceit. For example, they can pay their way to a deluge of five-star reviews, making you think the site is a legit one selling real products.
Fortunately, there are a number of ways to spot a site aiming to deceive your judgement. Closely analyse any reviews that are posted, seeing if there are similarities between them. If they all feature the same spelling, structure, positive points, etc., these are clear signs not all is right. The same can also be said if the URL bar doesn't feature a secure padlock.
10. Don't splurge for the sake of it
When shopping online, the best way to save money is to simply limit your spending on goods. Do you really need that new pair of jeans? Can you make do without that fancy kitchen gadget? Is it necessary for you to upgrade your phone right now?
Before you press the 'Buy now' button, take a minute to think about if the purchase is needed. Plus, if you back out and abandon your cart, you might even get a discount that makes it more worth your while!