br>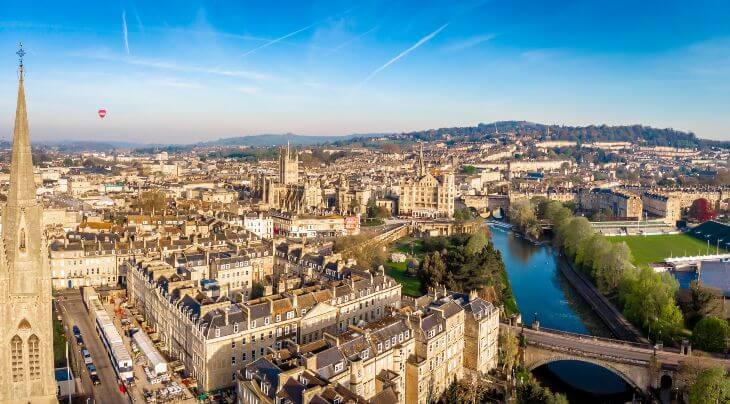 If you're considering buying a property in the UK, then you will certainly have a lot to think about. After all, you might need to think about local schools and public transportation. If you are on a budget then it helps to look into the general cost of living in the cities you're looking at too, as this will help you to form a more accurate opinion overall.
The UK has a reputation for being an expensive place to live, especially when it comes to cities. Yet, just how costly is it at the high end of the scale? Using house price-to-earnings ratio research from the Lloyds Banking Group, below are the 20 most expensive places to live in the UK.
20. Cardiff
The only entry on this list that sits outside England, Cardiff is quickly becoming one of the most desirable places to live in the UK. With a rich blend of history, culture, abundant green spaces, entertainment, and so much more, it's easy to see why house prices are rocketing in the Welsh capital. The average house price in Cardiff is currently £276,851 and shows no sign of slowing down - and that's despite the average annual wage of £31,946 being lower than most other cities listed.
19. Worcester
With postcard-like beauty, it's easy to see the aesthetic appeal of living in Worcester. However, this city in the West Midlands boasts a lot more than just visual quality. Worcester is a regular fixture at the top of the UK charts for both safety and happiness. It's also known for its collection of independent retailers and restaurants, great transport links, and high-quality educational institutions. The average house price in Worcester is £303,132.
18. Gloucester
In recent years, Gloucester has climbed the ranks to be considered one of the best places to live in the UK. One disadvantage of this rise is how much it costs to become a permanent resident in the city. Average house prices currently sit at £287,600. While stunning period homes support its popularity, shopping options, and high-ranking schools, one of Gloucester's biggest advantages is its location. Beautiful outdoor space is supported by its position between the Forest of Dean and Cotswolds, while Gloucester also features excellent transport links.
17. Southampton
Southampton is a vibrant port city where its abundant green areas, sports, music, arts, and entertainment appeal to students, families, and everyone in between. Situated on the south coast, the city is known for regularly welcoming cruise ships - great for ship-based travellers or just those who want to marvel at these massive vessels up close. Residents can also get into central London in less than 80 minutes via train. The average house price in Southampton is £310,435, while the average wage is £34,429.
16. Canterbury
Combining the traditional with the contemporary, Canterbury possesses a unique charm that is difficult to resist. The city centre is packed with shops, activities, and acclaimed dining options, while its great educational standards - from primary school to university - appeals to both families and students. Canterbury is also just a short drive from the seaside and the ever-popular Margate. For those wanting to live in Canterbury, however, they have to accept the high average house price of £365,168.
15. Bristol
You might be surprised the average house price in Bristol is a hefty £346,902. However, its remarkable rise has seen the city become one of the UK's most populous cities. Its excellent universities have contributed significantly to Bristol's growth, but it has a lot to offer for everyone. Vibrant nightlife, beautiful outdoor spaces, period properties, sports, history, superb transport links - there's something for everyone. Bristol is also recognised as the South West's shopping capital.
14. Norwich
Vibrant, safe, and buzzing with activity, Norwich often scores high on lists that judge the best places to live in the UK. The city itself might be small, but it packs in a lot for people to enjoy. This includes a range of festivals and markets throughout the year, a plethora of shopping opportunities, and great school options. Great transport links mean it is easy to get around, which is great for exploring the surrounding Norfolk countryside. £306,946 is the current house price average in Norwich.
13. Leicester
Leicester is a city going through a large portion of regeneration. Add in its diverse nature, ample parks, green spaces, and rich cultural heritage, the city is a popular pick - and the demand for homes is evident. While the average house price is at a relatively affordable £279,080, Leicester is regarded as one of the most expensive places to live in the UK due to the average wage being £28,725 - the lowest out of the 20 cities on this list.
12. Exeter
Positioned next to the coast while embedded within the lush countryside, there's no other city in the UK quite like Exeter. It's a tranquil and scenic slice of the South West, yet it still offers a plethora of facilities to maximise comfort levels for residents. Independent boutiques sit alongside high street stalwarts. There's a lively nightlife scene. History is around every corner, with Exeter Cathedral being the unmistakable highlight. It's also remarkably well-connected with Exeter Airport and its position on the M5. Average house price: £323,554.
11. Salisbury
In 2019, the Sunday Times crowned Salisbury as the best place to live in the UK. This type of accolade demonstrated the desirability of living in the city at the time and prompted others to start their own Salisbury property search. This has resulted in average house prices rising to £392,355 at present. Yet residents get to enjoy a city renowned for its beauty, magnificent history, activities, and welcoming community.
10. St Albans
With average house prices at a startling £604,423, St Albans is one of the most affluent places to live in the UK. Only the median wage of £59,391 - the highest on this list - stops it from ranking higher as the most expensive city to reside in the country. Perhaps its main selling point is that it's less than a 20-minute train journey from London. Yet unlike the capital, St Albans is more relaxed with the Hertfordshire countryside to enjoy. Top class schools, culture, and food all further add to the city's appeal.
9. Chelmsford
Situated in the heart of Essex, Chelmsford is a popular place to live for a multitude of reasons. It's a great place for employment and schools, the rate of crime is low, there are excellent green spaces to explore, and its nightlife is among the best in the country. However, the main reason why house prices are £424,690 on average is simple: it's a 30-minute train journey into London.
8. London
London being on the list is no surprise. However, what might be surprising is that the capital doesn't make it into the top five most expensive places to live in the UK. The size of London is ultimately what stops it from taking the top spot. While house prices in the city centre are eye-wateringly high, the average sits at £564,695.
7. Brighton and Hove
Brighton often receives the label of 'happiest place in the UK', and it's easy to see why. The city boasts a prime coastal location, great links into London, and thriving food and independent retailer scenes. Brighton's eclectic, exciting arts and culture scene is another reason to stick around, as is its unofficial title as the UK's LGBTQ+ capital. It even has an eight-mile-long beach!
6. Cambridge
The only place in the top twelve which sits outside both the South East and South West, East Anglia's Cambridge is known worldwide for one reason: its university. Aside from a vibrant student population, the city is one of the most beautiful, historic, and charming places on the planet. Great dining, shopping, and employment opportunities ensure residents want to stick around, but its excellent transport links make it an excellent base for getting around the UK. Cambridge's average house price is £482,300 at present.
5. Chichester
The average house price in Chichester is a lofty £446,899. There are numerous reasons why this cathedral city is so in-demand as a place to live. It's a place jam-packed with character, fantastic amenities, and history. Quality schools make the city a great prospect for families, while excellent transport links mean destinations such as Brighton, Portsmouth, and London can all be reached in less than 90 minutes.
4. Truro
Truro's average house price of £356,788 is perhaps surprising despite its high ranking. However, the low median wage of £29,558 is what sees it being classed as so expensive. This cathedral city in the heart of Cornwall is full of charm, offering an excellent combination of culture, shopping, and eye-catching architecture.
3. Bath
With incredible Roman architecture, Bath is one of the most beautiful places to visit in the UK, welcoming millions of tourists from around the world each year. Its vibrancy, theatres, museums, quality shopping, and tasty restaurants all contribute to the city's desirability. The average house price in Bath is £476,470.
2. Oxford
As with Cambridge, Oxford's main selling point is its world-renowned university. However, the city is more than just an educational haven for students. There's incredible architecture at every turn, while the surrounding countryside provides an excellent sanctuary from the city's activity. Oxford also features great food and drink options, shopping, career opportunities, museums - the list goes on and on. £486,928 is Oxford's median house price, with the average wage sitting at a relatively modest £39,220.
1. Winchester
That's right: Winchester is the number one most expensive place to live in the UK. House price averages are at a gigantic £630,432. Despite this, the wages are relatively low at £45,059, and this is what sees the city hit the top spot on this list. An illustrious history, stunning houses, lively markets, low crime rate, welcoming community, and excellent schooling all contribute to its ranking. Winchester's enviable location, with London an hour away and the coast on its doorstep, is also a major selling point.
Looking for somewhere a little less pricey? Check out the Top 15 Most Affordable Places to Live in the UK.
---
Whether moving to a new city, or simply looking at a city break to remember, Car Cash Point is here to help. Our logbook loans are tailored to your requirements, and we aim to effectively help you save as much as possible. 
There are no fees or charges, no hidden unexpected small print and no credit checks, in fact once agreed your loan can be with you on the same day, often within an hour. Loan amounts range from £500 to £100,000 and we also offer a much lower interest rate than many of our competitors, and if you do manage to find a cheaper rate for the same loan we'll beat it by 10%.
We also offer flexible loan agreements to suit your needs and repayment terms, making Car Cash Point a loan that works with you to suit your timeline.
Contact us today for a smooth logbook loan experience, whether it be to cover moving costs, a city break without limits or whatever you may desire, Car Cash Point is there to help. For more information, call us now for a jargon-free, no-commitment discussion, or use the form at the top of the page and let's see if we can help you fulfil your dream.