br>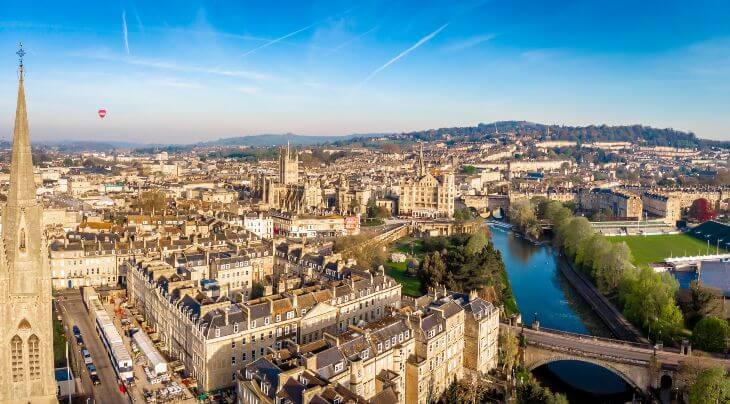 If you're considering buying a property in the UK, then you will certainly have a lot to think about. After all, you might need to think about local schools and public transportation. If you are on a budget then it helps to look into the general cost of living in the cities you're looking at too, as this will help you to form a more accurate opinion overall.
Kensington
Kensington and Chelsea are at the top of the list. Houses here cost around 44 times the yearly living wage and this is shocking to say the least.
Bath
Bath is highly sought-after and this is one of the many reasons why it is so expensive. The spa town is known for having one of the best school systems in the UK and it is also a brilliant choice for families who want to make the move out of the London area. Rental prices here reflect the grandeur of the town and they stand at around £1,070 per person in the household.
Westminster
This is the second most expensive place to live in the UK. It's in the heart of London and this alone puts the price up. On top of that, it's home to the Houses of Parliament, which adds even more to the cost. It's safe to say that you need to have a hefty wage packet coming in if you want to live here.
Camden
Properties in this area come to around 20 times the annual living wage. You would have thought that people would find it hard to live here based on that, but this is not the case at all. In fact, the demand is so high that sometimes it is hard to find properties for sale here because they get snatched up so quickly.
Oxford
To live in Oxford, you're looking at around £1700 per month. The average property there costs over £400,000 but it's still not as expensive as living in London. The ancient city has a very good commuting network and landlords seem to want to take advantage of this. Oxford is home to wealthy students and a lot of people come here to study too. So many people in the area are teachers too, and this helps to offset the huge cost of living.
Edinburgh
If you want to live in Edinburgh then you're looking at £1,757 a month. That's just for your rent. If you want to take into account the other expenses too then you're looking at well over £5,000. Edinburgh is considered to be one of the most stunning and beautiful cities in the world., and this puts the price up. The city has the highest percentage of professionals in the world and over 43% of them have degrees or higher.
Brighton
So many people that live in Brighton actually commute to work every day. Most work in London, but that doesn't mean that the city doesn't have a nice and vibrant life of its own. It's known for being called the happiest place in the UK and the streets are rich with independent shops. There are Georgian homes which will set you back £1600 every month and the average house will cost £363,639. It's got a thriving tourism industry and it's even home to a beach. This is one of the many reasons why it is so popular with everyone who visits.
Bournemouth
If you want to live in Bournemouth, then it could cost you £1,300 in rent. The average house costs £244,520. One of the main reasons why this location is so expensive is because it is a popular place for retirees and even students.
Aldershot
Living in Aldershot will set you back over £3,500 a month. It's a suburban town and you need to be earning a very comfortable amount if you want to live here. The town grew a lot in the Victorian era and it's got strong military roots. An annual Travelcard alone will cost you £3,852.
East Molesey
East Molesey is around 11 miles from the centre of London. It's the ideal way for you to get access to the capital, but that being said, it's not much cheaper to live there.
Reading
Reading will cost you £3,326 in living expenses. The main reason for this is because it's so close to the capital. It's got a major commercial centre and it is also the biggest town in the UK that doesn't actually have city status.
Leeds
Leeds costs around £3,086 a month and it has experienced a gigantic boom in the last few years. The legal industry is growing and private sector jobs seem to be the reason why the prices are going up. If you want to make a solid house investment, then it would certainly appear that Leeds is the place to be.
Slough
Slough is also very expensive. It will cost you £3,029 every month. The local economy is progressing, and it has fantastic transport links too. Slough's rental costs surpass £1,000 and the average home is over £3,000.
Southampton
Southampton is a port city and the big ships make it a very attractable area. The cost of living there is quite expensive and there are luxurious property developments cropping up all the time. The apartment scene is also very desirable, and it is one of the many reasons why so many people choose to flock there every single year.
Gerrards Cross
One of the most sought-after postcodes in the UK, Gerrards Cross can be found in the rural Chiltern Hills. The transport links are super-efficient and if you want to keep fit then you'll be glad to know that there is an abundance of tennis clubs, squash arenas and even cricket grounds too. You'll never be short of things to do!