br>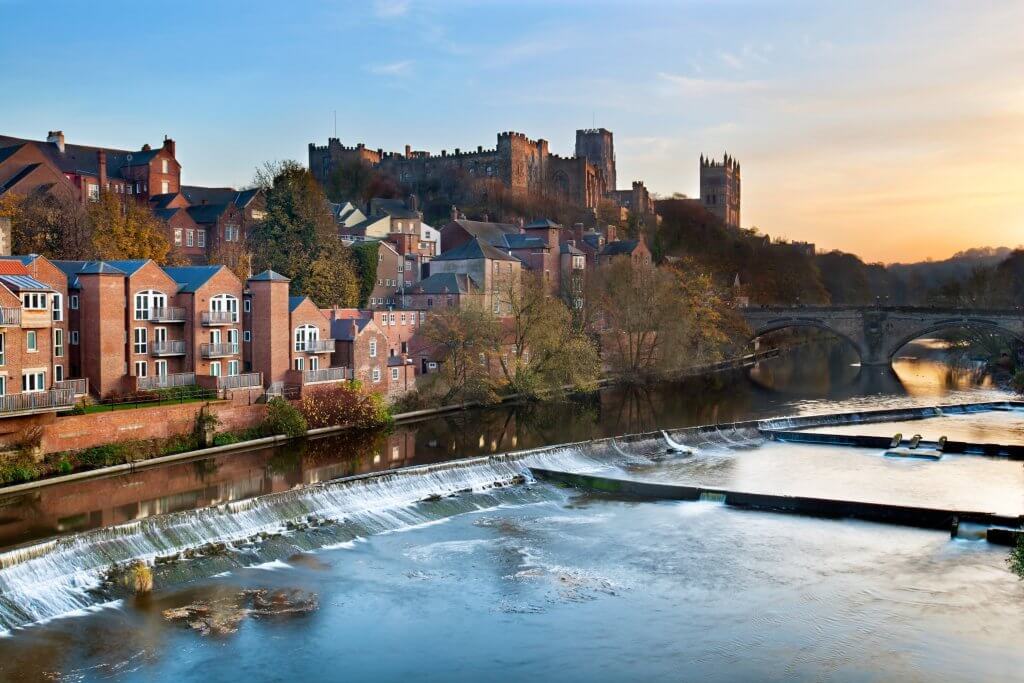 The cost of living in the United Kingdom is skyrocketing. As everything from energy bills to weekly grocery trips continues to go up, household budgets become more and more squeezed. While drastic, one way to offset this problem is to search for a more affordable place to live.
The good news is that, for those happy to venture beyond the south, there are numerous places across the country that are still deemed affordable. This is particularly beneficial for first-time property buyers, as this gives them more scope to secure a mortgage. A move can also be cost-effective for those currently struggling to make ends meet in a more expensive part of the country.
Using research conducted by Halifax in 2021, which compares the ratio between the average house price and average earnings in an area, here are the most affordable places to live in the UK.
15. Liverpool
One of the biggest and most famous cities in the UK, Liverpool creeps into the top 15 most affordable places in the UK. The £215,741 average house price is the most expensive on this list, but this is balanced out by the mean annual earnings of £34,911.
Even though Liverpool doesn't have the best reputation in terms of safety, there are both good and bad places to live in the city - just like with virtually any major city in the country. If you land in a nice neighbourhood, however, you have the right foundation to enjoy everything that Liverpool has to offer. This includes fantastic history, architecture, and attractions in the city centre, while you can go a little further afield to savour Liverpool's miles of coastline and charming countryside.
14. Durham
For many, it is already one of the most desirable areas to live in the North, but Durham has another get selling point. It offers some of the most affordable housing in the country. Average housing prices sit at £196,274, and the average wage is £31,762 per year.
Aside from the affordable living, Durham has a lot going for it. It's a compact city with a charming small-town community bursting with historical landmarks, top dining options, an assortment of retailers, and an acclaimed university. Bill Bryson once described Durham as "a perfect little city", and many who live there will echo those sentiments.
13. Salford
With house prices sitting at £211,903 on average, Salford is among the most expensive on this list - but it's also more than £100,000 cheaper than the UK average. The mean annual salary for the city is £34,444.
Salford is one of the greenest cities in the UK, ensuring residents can enjoy a fine combination of urban and rural living. Furthermore, it's only a little over two miles away from the heart of Manchester city centre.
12. Lisburn
Northern Ireland's Lisburn has an average house price of £203,386. As well as affordable accommodations, the mean wage is an attractive £33,138 per annum.
Judged in some circles as the best place to live in Northern Ireland, Lisburn benefits from low unemployment levels, great dining options, and an assortment of entertainment facilities to enjoy. It's also just an eight-mile journey from Belfast city centre.
11. Sunderland
As the North East's most affordable city, Sunderland is home to average housing prices at a low £179,567. While the annual wages are one of the lowest on the list at £29,745, this doesn't stop Sunderland from being recognised as the eleventh most affordable city in the UK overall.
Not long ago, Sunderland had a poor reputation as a place to live. However, it has recently been voted as one of the UK's best areas due to its cheap living, attractions - including award-winning beaches - and great transport links for getting around the North East.
10. Dundee
Rounding out the list of affordable Scottish cities - only Edinburgh didn't make it - Dundee offers houses at £181,150 on average. This is judged even more favourably with the relatively decent mean annual earnings of £31,344.
Some consider Dundee to be the finest place to live in Scotland - and there are various reasons why this is the case. It is compact, cultural, cosmopolitan, and friendly. It's safe, vibrant, and boasts a good employment rate. Dundee's affordability also makes it even more desirable.
9. Hull
With average house prices sitting at £156,424, Hull features some of the cheapest housing options found in the UK. In fact, it is less than half of the average house price for all of the UK (£327,691). Average annual wages of £27,730 combine to make it the ninth cheapest place to live in the country statistically.
With a growing reputation that goes against old-fashioned opinions of it, Hull is a vibrant, compact waterfront city that contains historical period buildings, endless cultural events, and great educational facilities. It also has the benefit of being a short drive from some of the most beautiful areas in Yorkshire.
8. Inverness
The fifth Scottish city in a row, Inverness boasts average house prices at a very affordable £191,840. Even though career prospects are not quite as flourishing, with average earnings sitting at £34,373 per annum, Inverness remains one of the UK's most inexpensive places to live.
It has been voted as one of the happiest places to live in the country, and this is supported by Inverness' excellent outdoor spaces. Not just the UK's but one of Europe's least densely populated areas, it is a rural paradise for those who love nature.
7. Perth
£203,229 is the average house price in Perth, and this Scottish city's affordability is further boosted by its average annual wages of £36,700.
Perth is regarded as one of the most attractive cities in the country. Yet add in a wealth of history, great transport links, acclaimed school options, and a charming selection of independent retailers, and there's much more to this city than simply a pretty veneer.
6. Glasgow
As Scotland's most populous city and second only behind Edinburgh as its most prominent, it might come as a surprise to see Glasgow as the UK's sixth most affordable place to live. House prices set people back £196,625 on average, while the mean yearly wage is £36,205.
If you're searching for a London-like experience that's much more affordable (and slightly wetter) than England's capital, Glasgow is an ideal option. It's a bustling, exciting city that is a cultural melting pot of food, shopping, and many things to see and do. Glasgow also has great transport links and a reputation for being one of the friendliest cities on the planet.
5. Aberdeen
Staying in Scotland, Aberdeen is another city that sits comfortably among the most affordable in the UK. £205,199 is the average house price, while £38,016 is the mean annual earnings - both of which are very close to Stirling.
It's also similar to Stirling in terms of how it is regarded for overall quality of life. Aberdeen is a city full of history and activity, and it is one of the safest areas in all of Scotland.
4. Stirling
Scotland's most affordable city, Stirling has an average price of £208,927 - a figure that's significantly higher than the previous entries. However, what makes it so affordable is its relatively prosperous annual wages on average: £38,744.
The generous wages and attractive property prices are only the start. Stirling is regarded as one of the UK's finest options when it comes to quality of life. It's safe, supplies great education options, contains ample leisure facilities and amenities, and is a short train journey from both Edinburgh and Glasgow.
3. Bradford
Following closely behind Carlisle with the same price-to-earnings ratio of 4.8 times, Bradford's average house price is £164,410 while the mean annual earnings is £34,219.
Depending on what study you look at, Bradford is regarded as either one of the worst places in the UK to live or one of the most underrated. What cannot be disputed, however, is that Yorkshire's third-biggest city is diverse, has a great location between Manchester and Leeds, and offers attractively priced housing options.
2. Carlisle
Carlisle is judged to be the second most affordable city in the UK. While house prices are not quite as low as the aforementioned Londonderry, they are still among the most affordable on average at £163,232. The mean annual earnings is also slightly better at £34,087.
Situated in the north and close to Scotland, Carlisle has more going for it than simply being a place with relatively inexpensive properties. Excellent connectivity, a prosperous economy, and a beautiful rural setting all make Carlisle an enticing city to live.
1. Londonderry
With an average house price of £155,917, Londonderry (or simply 'Derry') is one of the cheapest places to buy a house in the UK. Furthermore, this city in Northern Ireland also offers a relatively generous £33,138 annual wage on average. This combination has seen Londonderry being judged as the most affordable city in the UK.
Despite its low-cost nature, the walled city of Londonderry is judged favourably as a place to live. It's rich in culture, features highly rated schools, and offers an exciting collection of outdoor attractions to enjoy.
---
Whether moving to a new city, or simply wanting a city break to remember, Car Cash Point is here to help. Our logbook loans are tailored to your requirements, and we aim to effectively help you save as much as possible. 
There are no fees or charges and no hidden unexpected small print. In fact once agreed your loan can be with you on the same day, often within an hour. Loan amounts range from £500 to £100,000 and we also offer a much lower interest rate than many of our competitors, and if you do manage to find a cheaper rate for the same loan we'll beat it by 10%.
We also offer flexible loan agreements to suit your needs and repayment terms, making Car Cash Point a loan that works with you to suit your timeline.
Contact us today for a smooth logbook loan experience, whether it be to cover moving costs, a city break without limits or whatever you may desire, Car Cash Point is there to help. For more information, call us now for a jargon-free, no-commitment discussion, or use the form at the top of the page and let's see if we can help you fulfil your dream.