br>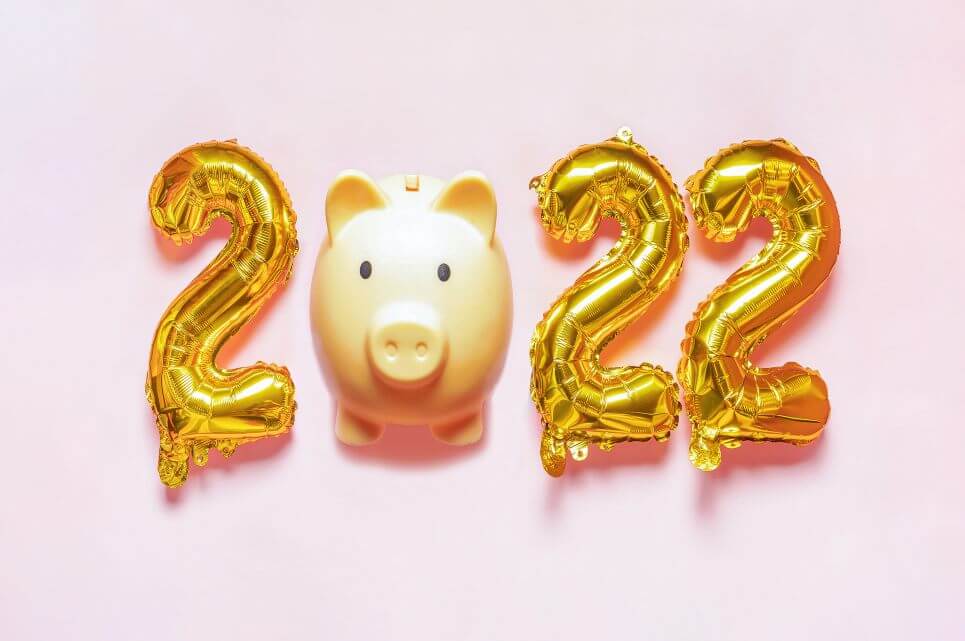 Are you trying to scrape together enough money for a house deposit? Maybe the aim is to clear your debts within the next twelve months? Perhaps you want a security blanket for the uncertainty 2022 brings? Whatever the reason, you've decided to make a steadfast effort to save money.
If you have attempted to save money in the past, you know it's far from an easy process. Unexpected expenses can scupper your plans, as can sudden changes in your work situation. The issue is further compounded if you're living month to month, where there's seemingly no room to save any money after paying your household bills.
However, by implementing a few sound tactics into your financial game plan, it is possible to build up a healthy nest egg. With that in mind, here are the top seven ways to save money in 2022.
1. Monitor your expenses
Before you can start to think about a plan to save money, there are two important elements you need to be 100% aware of: your income and expenses. While the former is not going to be a mystery, it's less likely you have a full understanding of how much you spend on a monthly basis.
Obviously, this number can fluctuate due to numerous reasons. Holidays, birthday presents, nights out, vehicle repairs, replacing a broken phone screen - your outgoings can jump up due to a rise or sudden appearance of certain expenses. With that said, these don't stop you from gaining an accurate representation of your spending habits.
First, it's recommended you analyse your outgoings over the past three months. Track everything from your mortgage to each latte purchased from Starbucks. By checking your expenditure over this period of time, you can learn just how much money is leaving your bank account each month.
This is only the start of recording your expenses. It is important you continue to do this, as this helps with staying on track and not spending beyond your means. There are various free apps available that help with tracking expenses, some of which automate the work and categorise transactions for easier viewing.
2. Renegotiate your fixed monthly expenses
You know how much you're spending. Now it's time to cut away at these expenses. One way of doing so is by taking a closer look at your fixed monthly expenses and renegotiating with providers. While it might not seem possible to reduce bills such as your mobile phone contract or television package, it's actually more feasible than it may initially seem. It can also make a significant difference to your savings goals.
Take your mobile phone bill. For instance, paying £35 instead of £50 each month won't seem like much on the surface, but that monthly £15 difference amounts to £180 a year - and that does make a difference when you're attempting to save money.Simply put, phone providers want to keep you around. They see you as a steady cash flow stream once they've tied you up to a contract. So if you reveal to them that you're considering alternative providers, this will quickly grab their attention. This is especially the case if you can prove to them a different provider offers the same contract at a much more competitive rate. To stop you from leaving, more often than not, they will revise your current deal and lower the monthly price.
The same also goes for other fixed monthly bills, which can be negotiated. Get three or four lowered, and that makes a huge difference.
3. Drop unnecessary bills
Your mortgage or rent, the gas, electric, council tax, etc. - there are certain bills which you cannot avoid. Nevertheless, there are just as many fixed bills which you can drop entirely from your budget. Now, this doesn't mean you have to sacrifice your luxuries. You don't have to stick to your home telephone or 'borrow' a neighbour's Wi-Fi.
In fact, there are likely various bills you can terminate without it impeding on everyday life. Take a cable or satellite TV subscription, for example. If you have this type of subscription, how much are you getting out of it these days? With the prevalence of streaming services, the answer is probably, 'Not much' - and this makes it a prime candidate for being dropped out of your expenditure list.
Speaking of the likes of Netflix, Disney+, and Amazon Prime, and with how easy it is to dip and out of these streaming services, don't feel you need to stick around with your subscriptions for the sake of it. The same can also be said for other online subscription services.
Do you have a gym membership? Here's another bill that can be deemed unnecessary. Of course, you don't have to sacrifice your fitness. You can plan your own workouts at home, join local sports groups, do a weekly Parkrun, and so on.
4. Get smart with your supermarket trip
It is easy for a family to spend over £100 a week on groceries. That's £5,200 a year. However, it doesn't take too much effort to reduce this bill significantly.
One important step to take is to generally forget about ready meals and branded goods. By cooking your own meals, you can save a lot of money while also enjoying fresh, quality food. Plus, if you don't think you have enough time to cook, there are countless recipes available where you'll only be in the kitchen for 20 minutes or less. When you do cook, planning out your meals is vital as it makes it easier to maximise your ingredients.
Alternatively, there is another strategy that is less planning and more spontaneity. This involves buying soon-to-be outdated groceries when they're reduced in supermarkets. If you get the timing right, you can pick up food and drink that has dropped 90%+ in price. Another option growing in popularity is Too Good To Go, where you can buy "magic bags" full of unsold food from restaurants and shops for less than the price of a pint.
For more supermarket saving tips, check out our article on Saving Money on Your Food Shop.
5. Cut down with 'no spend' weekends
No, you don't have to wave goodbye to your social life. Yet at least once a weekend each month, you should avoid the boozy night out, the pricey restaurant or takeaway, the family visit to the cinema, etc. and go with a 'no spend' philosophy.
A 'no spend weekend' is not necessarily a boring time cooped up in your home. There are various outdoor activities you can enjoy without needing to spend a penny. Free museums, walks in the countryside, a day at the beach, etc. Although if you do decide to stay indoors, plan for it by doing something like a board game night or movie marathon.
6. Savvy shopping online
When shopping online, never simply purchase an item for the price you see. In many cases, there is the possibility to drop the cost with a discount code. You may also find an alternative retailer selling the same product for less.
Another tip is to check if cashback is available at your chosen retailer. By utilising platforms like Quidco and TopCashback, you can effectively be paid to complete your purchases. While the amount of money received is generally small, it can soon mount up.
Of course, the savviest online shopping tactic is to always ask yourself the following the question before pressing that 'Buy' button: "Do I really need it?"
7. Set a savings goal
To further help reduce your outlays, it is highly recommended that you set a savings goal. With this in place, you have a target in mind. You have a certain figure that you want to reach - and the better you save money, the more attainable it becomes.
The goal you choose is dependent on your situation. Short-term examples include saving up for a holiday, putting together an emergency fund, or raising enough for a car down payment. Long-term goals include a house deposit or planning for your retirement.
To help get into the habit of saving, first set small goals that can be achieved within a month or two. This could be purchasing a new smartphone or games console. The reward you gain helps supply a psychological boost and reinforces the benefit of saving.
Conclusion
Saving up a substantial sum of money is not an easy task. Yet, with a few small sacrifices and tactical tweaks - such as those listed above - the assignment becomes a lot more achievable.
Of course, you never know when unexpected costs can strike. This could be a big DIY job, for example, or a medical emergency. These can bludgeon your finances before you truly get started with your savings plan. Oh, and then there's the unstable economy to contend during 2022 and beyond. As a result, it's important you have a backup plan.
That backup plan could found in the form of a logbook loan with Car Cash Point. Even if you have a poor credit rating, we can step in and offer assistance. You simply use your vehicle to release funds for your needs, and, once approved, you receive the agreed loan within one hour.